The Silver Spring (MD) Alumni Chapter has partner with Cheeburger Cheeburger for a fundraising opportunity that will benefit the Metropolitan Kappa Youth Foundation.  The flyer is below and available as a PDF for the fundraiser scheduled on Thursday, January 26th at the Olney and Columbia Cheeburger Cheeburger restaurants from 5p to 9p. Please remind everyone to bring a copy of the flyer to Cheeburger, so we don't miss any potential donations. If someone, forgets their flyer the night of the event, Cheeburger will give them one.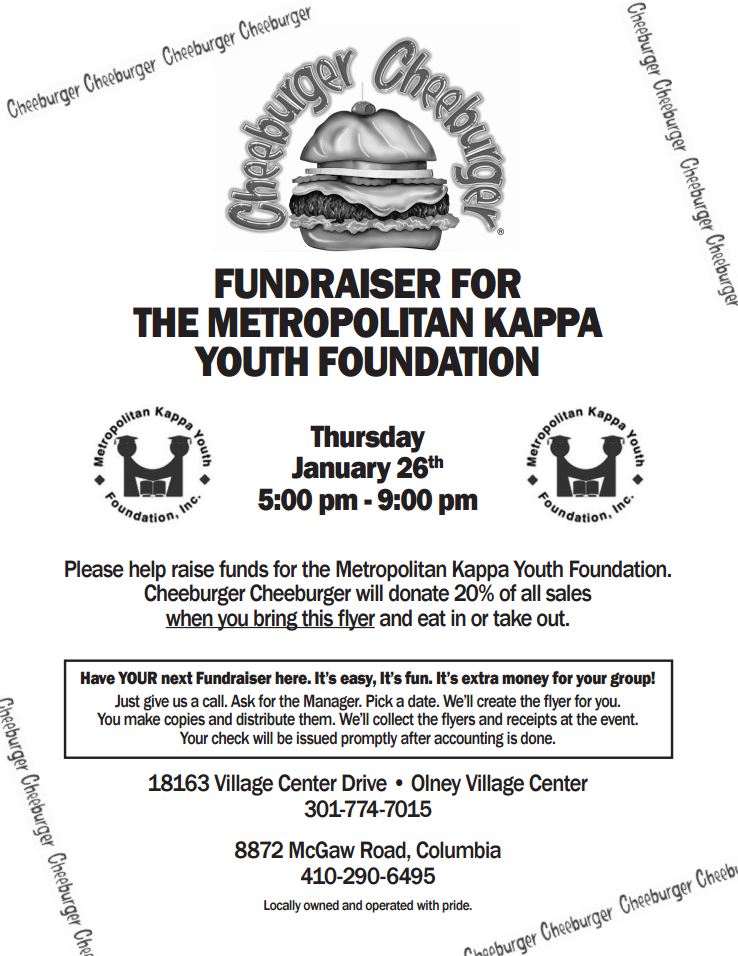 Reserve Your Ticket Online
Time is quickly running out to reserve your seats. The last day to buy tickets is June 3, 2015.

Reserve your ticket for The Black & White Ball hosted Collaboratively between the MKYF and the Silver Spring (MD) Alumni Chapter of Kappa Alpha Psi Fraternity, Inc. Each ticket is $100 ($60 of each ticket is tax deductible). Using PayPal you can pay by Credit, Debit or your Online PayPal Account.
Black & White Ball

(ticket price)
$100.00
(pay pal convenience service charge)
+ $3.30

---

Total
$103.30
The Brothers, Ken & Ken (Moris and Elliott) are hosting their annual Fish Fry and Barbeque.  The event is open to the public (i.e. Friends and Family).  Please help us get the word out.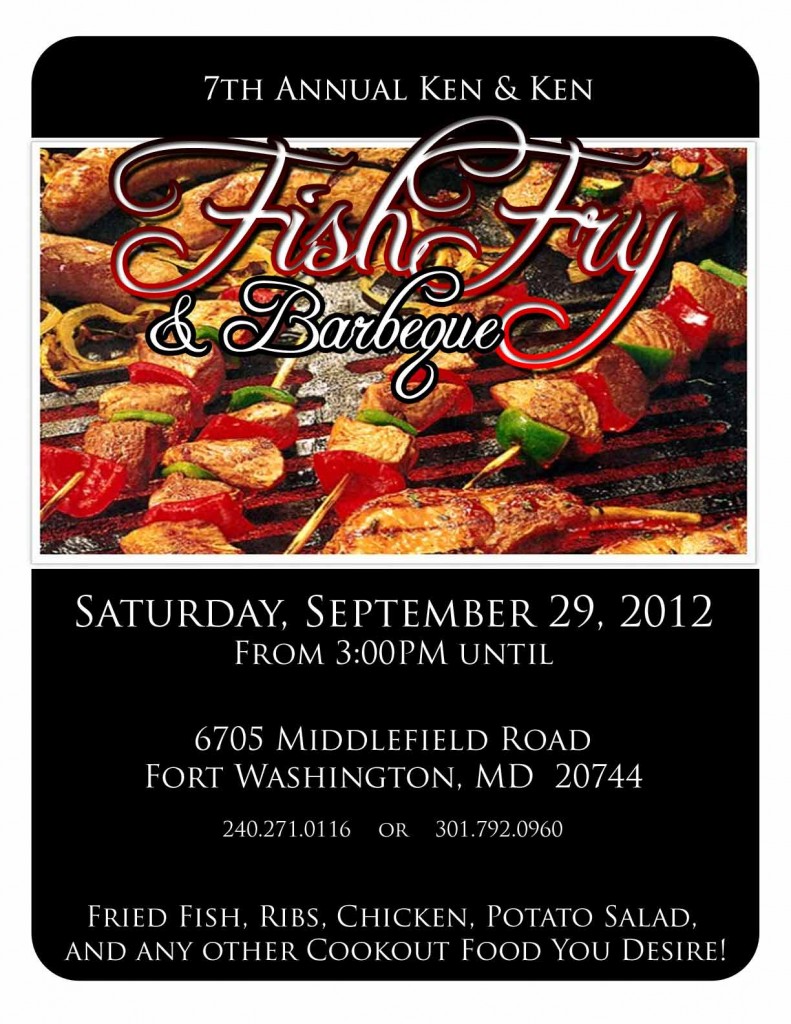 On Saturday, March 31,2012, the Silver Spring (MD) Alumni chapter of Kappa Alpha Psi Fraternity, Inc. will host the Kappa Komedy Showcase featuring well known comedian Tommy Davidson.  The other comedians are Tyler Craig, Tony Woods and Neemah Williams.  This will surely be an entertaining night.  Click this link To learn more information about the show and how you may purchase tickets.
About Tommy Davidson (taken from Wikipedia)
Davidson started his career as a stand-up comedian in the mid 1980s, performing in various comedy clubs throughout the Washington Metropolitan region, Baltimore and Philadelphia. His first major exposure came on the variety show In Living Color, where he played various characters, including his impersonations of Sammy Davis, Jr. and Sugar Ray Leonard, and being the victim of Homey D. Clown.
In 1991, he released Illin in Philly, a VHS tape of a stand-up performance, which was aired regularly on Comedy Central in the 1990s, and "On The Strength", another stand-up performance, this time filmed in New York City. He has also appeared in the films Ace Ventura: When Nature Calls, Strictly Business, Booty Call and Juwanna Mann. In 1998, he had a plantar wart removed from his left foot. The wart, described by Davidson as painful, was not serious.
Davidson provided the voice for "Oscar Proud," the father in the Disney animated series The Proud Family. He was also a recurring character on MADtv's Real M*****F***ing Talk sketches. In an episode of Comedy Central's Live at Gotham, Davidson hosted the show with amateur acts trying to make names for themselves. He was also a guest on an episode of Cartoon Network's animated/live action talk show Space Ghost Coast to Coast.
More recently, Tommy Davidson played the role of Cream Corn in Black Dynamite and has currently finished production on a full length feature with childhood friend and current roommate Steve Kuflik called Black Scabbith.
Our next and final Kappa League meeting for the fraternal year will be Sat. June 12th, 2010 at 11:00 am.
This meeting is open to all interested young men as well as current Kappa Leaguers and their families.  We will have a brief sample meeting followed by a Q & A session and cookout.
Please RSVP to kappaLeague@SilverSpringAlumni.com.
Mario Price
The Sunday of Hope Worship Service in support of St. Jude Children's Research Hospital will take place this coming Sunday, January 24, 2010, 4:00 PM at Renaissance Baptist Church located 3411 Spencerville Road, Burtonsville, MD 20866 – (202) 256-7538 where our very own Brother Rev. D. Mitchell Ford is pastor.
We are partnering with the Epsilon Sigma Chapter, Theta Theta Chapter, Bowie-Mitchellville Alumni Chapter and the College Park-Sandy Spring Alumni Chapter in this effort. All Brothers along with family and friends our encouraged to turn out and support.
Dress is Kappa attire i.e. Red Blazer or dark suit and red tie. There is still a need for Brothers who would like to be an usher for the program as well as choir members for all you inspiring American Idols.
So, lets show are support for a great cause.  For questions, contact me.
YITB,
Brother Anthony R. Brown
1st Vice Polemarch
Silver Spring (MD) Alumni Chapter
301.651.5161